Lieutenant-Colonel Oscar Stockdale, DSO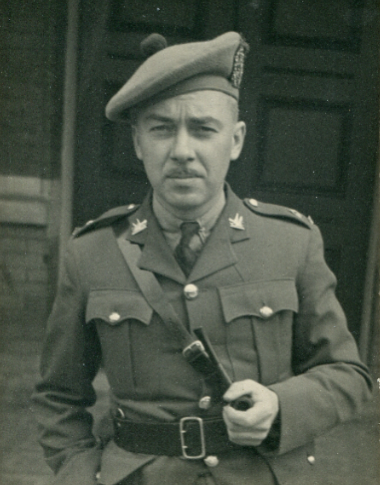 Oscar Stockdale (1908-1962) went overseas in 1940 as a lieutenant in The Lorne Scots. Some of his military career is a bit of a mystery. He was Acting Major and Chief Instructor of L Division Infantry Reinforcement Unit in 1942. The following year he vacated the appointment and relinquished his acting rank. At some point he served in North Africa, but by the time of D Day in Sicily (July 1943) he was serving with The Hastings & Prince Edward Regiment. He served with distinction in every action the battalion fought, and was awarded the Distinguished Service Order for his role. The citation reads,
He was promoted to the command of "B" Company at the end of 1943, and commanded it with gallantry and distinction from the moment he took it over. The standard he set, both in and out of action, was a tremendous inspiration to the whole regiment. One instance which perhaps best illustrates this officer's outstanding qualities was the crossing of the Canale Naviglio. "B" Company was given the left forward objective of the battalion plan. Crossing the canal at 0400 hours on 13 December 1944, Major Stockdale led his company on to the objective through enemy machine gun and mortar fire, successfully consolidating the position at approximately 0500 hours. At about 0730 hours the enemy counter-attacked in force with tanks and infantry and although completely lacking anti-tank guns "B" Company, inspired by the calm determination and outstanding leadership of Major Stockdale repelled two such attacks. The enemy then called on Major Stockdale to surrender. Vastly outnumbered and unsupported, the outcome for the company was practically certain, but Major Stockdale, in the finest tradition of the service, unconditionally rejected the demand. The enemy then counter-attacked again in great strength. This officer seemed to be everywhere at once, urging on his men. Inspired by his great leadership this depleted body of men held off the enemy for yet another hour before finally being overrun at 1020 hours. Their gallant commander when last seen was burning his maps and code books. He is now believed to be a prisoner. The devotion to duty shown by this officer delayed the enemy long enough to enable the main forces of the battalion to reorganise and consolidate a narrower bridgehead which later withstood eleven enemy counter-attacks. At all times Major Stockdale's conduct has been in keeping with the highest traditions of the service.
When his sister in Brampton sent him mail, it was returned as undeliverable.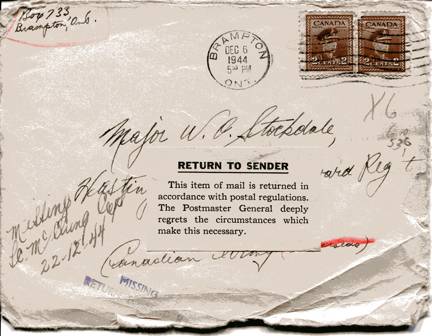 In May 1945, his mother received a welcome telegram to say that he had been released as a Prisoner of War.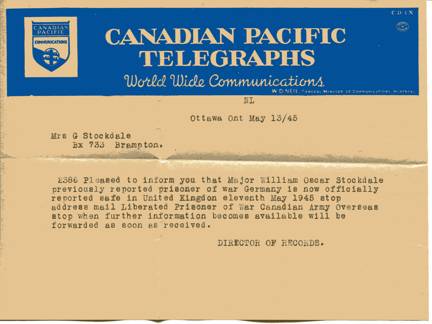 When he was released as a Prisoner of War in 1945, he became a Lorne Scot again, and commanded No 4 Wing, 1 Canadian Repatriation Depot, and his rank of Lieutenant-Colonel was confirmed the following year. He received his award from King George VI at Buckingham Palace.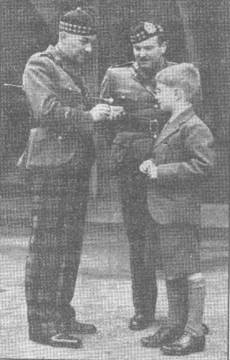 Lieutenant-Colonel Stockdale, accompanied by Major C.W. Barclay, gives an autograph after receiving the DSO.
The Maple Leaf, 20 October 1945.
He returned to Canada only in September 1946, and the City of Toronto presented him with a handsome scroll of appreciation.



City of Toronto presentation, 30 November 1946.
Now in The Hastings and Prince Edward Regiment museum.