The 37th Battalion, Canadian Expeditionary Force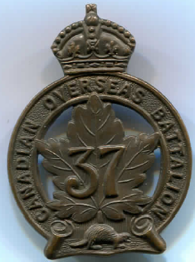 The 37th Infantry Battalion [authorized by GO 86, 1 July 1915] recruited mainly from Northern Ontario. Only a handful of its numbers came from Halton County, but one of that handful was Private George Brock Chisholm, son of the recuiting officer in Oakville. Chishom would be awarded the MM, and would command the Halton Rifles in the late twenties. That the 37th would be perpetuated by The Halton Rifles is perhaps due at least in part to his influence. Two companies came from the Georgetown area.
The battalion recruited in Niagara Falls, Aurora, Milton, Parry Sound, Owen Sound, Whitby, Barrie, Sudbury, Sault Ste Marie, Toronto, Cobalt, Haileybury and North Bay.



The 37th Battalion at Niagara-on-the-Lake

It began training at Niagara in January 1915. Lieutenant-Colonel C.F. Bick, who had been CO of the 34th Regiment, commanded 28 November 1915-6 July 1916.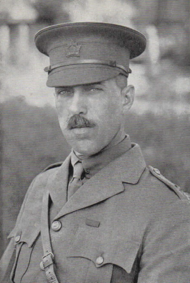 Lieutenant-Colonel C.F. Bick

A 1st Reinforcing Draft was Taken on Strength at Niagara in May and early June, 1915, and 250 men sailed from Montreal on the S.S. Hesperian on 10 June 1915. A 2nd Reinforcing Draft of 250 men was enrolled in Niagara in June 1915 and sailed from Montreal on the S.S. Hesperian on 17 August 1915.

37th Bn collar dog
37th Battalion collar dog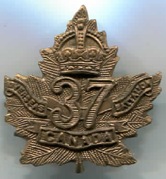 In October it received a draught of 71 soldiers from the 76th Battalion [Biggs, 76th Overseas Battalion, 36], perphaps increasing the number of Halton men in its ranks. On 27 November 1915, the battalion sailed from Halifax on the S.S. Lapland for England. On arrival in England the battalion numbered 40 officers and 1104 Other Ranks. Gradually its numbers were pared away: 250 ORs transferred to CTD Shorncliffe 3 February 1916; 405 ORs transferred to 12th Canadian Reserve Battalion and 100 to 17th Canadian Reserve Battalion 15 March 1916; the remainder transferred to the 39th Battalion 6 July 1916.
Soldiers of the 37th included: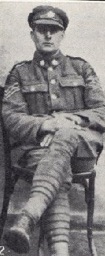 † Sergeant Herbert Abrams, MM (1891-1918), 408386. Born England, mechanic, next of kin his father in Kettering, Northamptonshire, Lance Corporal A Company when he signed his will 7 March 1915, atttested at Niagara 11 June 1915. Transferred to the 2nd Pioneer Battalion at Shorncliffe, 16 May 1916 and from them to the 6th Canadian Engineers Battalion 5 June 1918. 8 August 1918: 'bombardment had been in progress 10 minutes, they came under a heavy concentration of hostile gun-fire. Sergeant Abrams quickly lined out his men along "D" route. He had got two trenches filled and was bridging a third when he was struck down and seriously wounded in the arm, chest and legs.' Karl Weatherbee, From the Rideau to the Rhine and back. The 6th field company and battalion Canadian engineers in the Great War (Toronto: Hunter Rose, 1928), 367. 'On the 15th, notification was received from the 6th Field Ambulance that Sergeant Abrams H. had died on the night of the 8th.' 375. Buried Crouy British Cemetery, Crouy-sur-Somme.
Private William C. Alger, 408001, born England, NOK Mrs Elizabeth Alger, Georgetown. Brother of Thomas Alger, of the 4th Battalion.
Private Bert Anderson, 408002, Kazabazua Station, Quebec.
Private Herbert Angus, 408003, born London 1885, labourer, attested Niagara camp, 10 June 1915.
Lieutenant Harold Hodgson Ellis Lt 37th at Niagara, 1 June 1915; embarked for England 27 November 1915; TOS 12th Battalion 15 March 1916.
Private Albert Charlton 169002, born England; served with Imperial Forces; NOK Amelia Charlton, Milton; TOS Niagara Camp 16 May 1915.
Sergeant Henry Charlton 408717, born England, had previous service in the Imperial Forces, NOK Elizabeth Charlton, Milton; TOS Niagara 11 June 1915.
Private George Brock Chisholm, 47827, NOK Captain F. Chisholm, Oakville; to 15th Battalion, France, 17 July 1915.
Private J. Harold Dennis, 408063, served in the 36th Regiment, NOK Stephen Dennis, Brampton.
† Lance/Sergeant Walter Edwards, 408963, born St Neots, England, 5 June 1886, florist, NOK William Edwards, St Neots, attested Niagara camp, 28 July 1915, 19th Battalion, killed 8 May 1917. Menin Gate Memorial. Brampton cenotaph.
Private John Groman, NOK Edinburgh, Scotland, had service with the 20th Regiment.
† Private Charles Edward Gowing, 47862, born London, England, son of E. and Mrs C.S. Gowing of Brampton; NOK Charles Gowing, c/o C.W. Norton, Brampton House, Brampton, 15th Battalion, died 21 August 1915. Trois Arbres Cemetery, Steenwerck, France.
† Private George Hill, 46585, born England, son of Thomas and Alice Hill, of 27 Hoxton Road, Scarborough, England, previous service Imperial Forces, NOK Naomi Hill, Milton. Husband of Naomi Hill, of 46 Stephenson Avenue, Toronto. Died 26 September 1916. Vimy Memorial. Not on embarkation list.
Private Charles Allen Holland 408112 born England; NOK Mrs Laura Elizabeth Holland, Milton Heights; TOS Niagara 12 June 1915.
† Private Robert Hurst Irvine, 408118, 13th Battalion, killed 24 April 1916, age 19. Bedford House Cemetery, Zillebeke, Belgium. Brampton cenotaph.
Private Benjamin Knowles, 408804, born England, NOK Mrs Ada Edith Knowles, Brant Street, Burlington.
Nelson Larbalester, NOK Mr Larbalester, Jersey.
† Private John G.W. Le Page, 408141, born 1876, son of John and Georgina Le Page of Guernsey, husband of Edith Mary Le Page of Burlington, farmer, had served ten years with the Royal Guernsey Light Infantry, 25th Battalion, killed 13 July 1916, age 40. Dikebusch New Military Cemetery, Ieper.
Private Louis Magness, 136489, enlisted 3 November 1915, served with 37th overseas and 3rd Battalion in France, wounded twice, discharged 22 April 1919. NOK Miss Maria Magness, Port Credit.
† Private Charles Edward W. Mason, 408960, PPCLI, NOK William Mason, Bramton, killed 26 August 1918. 421, France. 19th Battalion, 37th Battalion. Vis-en-Artois British Cemetery, Haucourt.
Private Frank McCraney, NOK Mrs Agnes McCraney, Oakville.
Private Thomas McCraney, NOK Mrs Agnes McCraney, Oakville.
Private David S. McDowell, 408164, NOK Mrs Eunice McDowell, Campbellville.
† Corporal Hugh Gordon Munroe, 47904, 15th Battalion died 9 October 1916, age 19. Contay British Cemetery, France. NOK Rev. J.E. Munroe, Oakville.
Private John Clarke Murray, previous service with 31st, NOK Maud Isabella Murray, RR1, Milton West.
† Private Christopher Paynter, 409647, died 19 January 1916 in No. 1 Brigade Hospital, Bramshott Camp, from myocarditis (2 months) and influenza (12 hours). CWGC site. RG 150, Accession 1992-93/166, Box 7540 – 4. Died age 21. Son of the late Charles and Sarah Paynter. Bordon Military Cemetery.
† Private Wilfred Laurier Pulfer, 408962, 20th Battalion, killed 15 September 1916, age 20. Adanac Military Cemetery, Miraumont & Pys, France. Son of John and Martha Pulfer, Brampton.
Corporal Alfred Rolph, born England, NOK Emily Rolph, Lowville.
Private Edward Romley Sagle, 409375, NOK Mrs Tilley Sagle, Oakville.
Private Cecil F. Sampson, 408209, born England; NOK John Broom, Norval.
[Cecil Bernard Sampson, 3 Parr Street, Toronto, born Sherbourne, Dorsetshire, 510616]
Private William Sanderson, 408201, NOK Mary Sanderson, Terra Cotta.
Private Carl B. Sheppard, 408206, NOK Thomas Sheppard, Burlington.


Private J. Sheppard

Private Jonas Sheppard, 408207, born Hurst Twyford Berks England, 17 November 1876; labourer; served seven years with the Royal West Surrey Regiment; NOK niece, Miss Lydia Whitfield, Norval.
Private Edwin W. Smith, 408885, previous service in the 48th Regiment, NOK his wife in Burlington.



Private Sam Stawigky

† Private Sam Stawizky, 408215, later 419141, born Kief, Russia, 2 April 1894, tailor in Georgetown when he enlisted in the 37th Battalion, NOK A.J. Blackburn, Georgetown. Blackburn, who was a merchant tailor on the Main Street of Georgetown, was probably his employer. 42nd Battalion, killed 9 April 1917. Givenchy-en-Gohelle Canadian Cemetery, Souchez, France. He is listed in the British Jewry Book of Honour. Stawizky on 37th embarkation list, Stawigky on Georgetown cenotaph.
Private Oliver Adrian Stewart, 486686, NOK Robert Stewart, Port Credit.
Private Ernest Jack Tapp, 136516, NOK Mrs Florence Tapp, Helen Street, Port Credit.
Private Edward Wadley, NOK William Henry Wadley, c/o A.C.Biggs, Burlington.
Private John F. Williams, NOK Miss Lillian Williams, Acton.
Private Andrew Wilson, 136522, NOK Joseph Wilson, Burlington.
Private James Crawford Young, 136525, born Canada, NOK Mrs Ettie Young, Brampton.