234th Overseas Battalion, CEF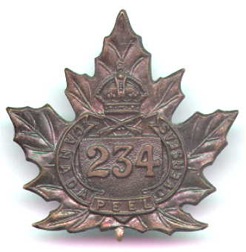 Lieutenant-Colonel Wellington Wallace was brought out of retirement to raise the 234th Peel Battalion. Though authorized 15 July 1916 (GO 69/16), it began recruiting in April.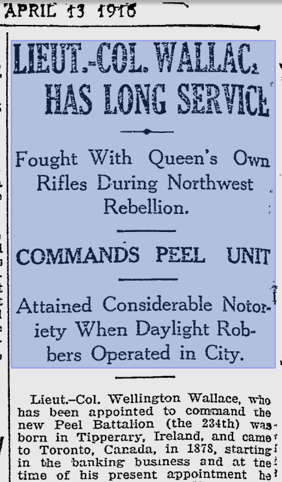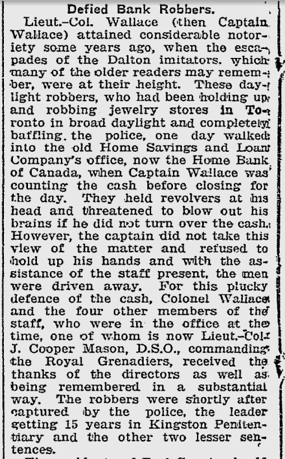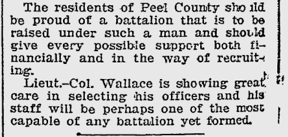 The Toronto World, 13 April 1916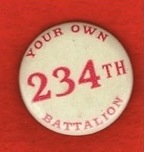 Recruiting button


The Peel recruiting ground was depleted after raising so many drafts and the entire 126th, and special efforts were needed to attract men. In December, a ministerial Patriotic Association urged sermons in every church in the county to plead the need for additional recruits, and they discussed how the refusal of the Russelites (Jehovah's Witnesses) to enlist might influence the campaign. By March, 490 men had been raised, less than half the number needed for a battalion. One newspaper shared the frustrations of a recruiting officer, who:
declares that the sons of farmers in Peel are not doing their fair share, as he knows fully 150 who can be spared from the farms to work in munitions plants, but do not show any disposition to enlist. He states further that there are several instances where four or five unmarried sons are living on large pasture farms of from two to three hundred acres and who are not needed at home.
The unit issued a 28-page illustrated pamphlet, 'setting forth the work, the expriences, the adventures and aspirations of the Battalion', sold at ten cents a copy by the officers and through the schools.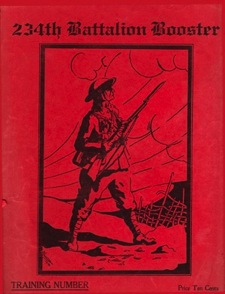 The Toronto Globe announced that an NCO course was beginning at Ravina Barracks, West Toronto (19 April 1916). The photo below is probably taken there, before the battalion moved to Niagara camp.



Wallace was too old for active service, and Major W.O. Morris was promoted, 18 April 1917, to take the battalion overseas. Reinforcement drafts had diminished its numbers, and it had only 15 officers and 279 other ranks when it embarked from Halifax on the steamship Scandinavian, 18 April 1916. Upon arrival in England on the 29th, the 234th was absorbed by the 12th Reserve Battalion, CEF, 30 April 1917. The battalion was disbanded 1 September 1917 (GO 82/18).


In barracks.

The 234th Battalion was perpetuated by the 3rd [Reserve] Battalion (GO 123/29), The Peel and Dufferin Regiment, and now by The Lorne Scots.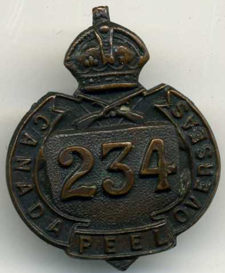 234th Battalion collar dog, marked 'Ellis Bros.'
Lorne Scots Museum


Soldiers included
Private Charles Stewart Harper Abel, born Aberdeen, Scotland, 4 April 1898, farmer in Summerville, Peel County, 1024538, attested 18 January 1917.
John Adam, born Paisley, Scotland, 30 June 1892, butcher's helper in Toronto, 1024222, attested
31 July 1916.
Sergeant Joseph Oscar Adams, born Brampton, 20 April 1889, printer, 1024302, attested 24 August 1916.
Private John Akiwenze, born Cape Croker, 15 March 1884, had been in the 32nd Regiment band, munition worker in Toronto, attested 12 December 1916.
Private George Frederick Allan, born Toronto, 25 August 1888, machinist, served in the 12th York Rangers, 1024260, attested 12 August 1916.
Private James Allen. 1024293. Born Manchester, 10 October 1885, storekeeper in Toronto, served with the 4th Royal Warwicks in 1903, attested 29 August 1916.
Private Percy Richard Allen, born Wickham Market, Suffolk, 7 May 1897, farmer in Hornings Mills, attested 27 October 1916.
Private Sydney Henry George Allen, born Camberwell, London, 28 February 1898, printer in Toronto, 1024510, attested 2 January 1917.
Private Allan Ambury, born Toronto, 19 August 1898, driver in Toronto, 1024401, attested 28 October 1916.
Private James Richard Anderson, 1024565, born Ayr, Ontario, 25 June 1873, served three years as a private in the 32nd Regiment in Teeswater, miller in West Toronto, 1024565, attested 22 March 1917.
Private Edward William Andrews, born Bristol, England, 26 February 1872, cook, 1024420, attested 12 October 1916.
Private Harry Wilfred Angus, born Toronto 2 March 1900, messenger, bugler A.S.C., 1024148, attested 16 June 1916.
Private William Petherbridge Anscott, born South Brant, Devonshire, 18 May 1890, carpenter, lived in Brampton, attested 26 April 1916.
Private Lawrence Antonelli, 1024137.
Private William Charles Arch, born Peel County, florist in Streetsville, 5 July 1897, 1024150, attested 17 June 1916.
Captain W.R. Armitage.
Private Stanley McFarlane Armstrong, born Peel County, 9 May 1897, 1024142, attested 14 June 1914.
John Paul Arnold, born Prince Albert 1 November 1894, 2147375, University of Saskatchewan Agriculture 1913.
Private Ernest Harold Arnott, born London, England 8 October 1882, grocer in West Toronto, 1024100, attested 19 May 1916.
Private Ernest Henry Atkins, born Kent, England, 17 October 1898, labourer in Streetsville, 1024449, attested 23 November 1916.
Private Robert Alexander Atkinson, born Leeds, England, 25 November 1897, machinist in Toronto, 1024243, attested 4 August 1916.
Corporal Arthur Bage, born Sheffield, England, 4 December 1882, fireman, lived 49 McGregor Avenue, Toronto, attested 10 May 1916.
Arthur Brown. 1024082.
Charles Brown. 1024289.
Captain C.R. Burroughs, BA University of Toronto 1909, Adjutant.
Arthur William Burt, born Paris, Ontario, 25 November 1893, 1024834, attested 20 October 1916 (living in Toronto, father NOK in Brampton). He had previously enlisted in the 204th Battalion.
† Private Sydney Churchward 1024345 enlisted 20 September 1916.
Charles Clark. 1024305.
Frank Cook. 1024474.
John Cook. 1024197.
William Davis. 1024525.
Private Harry Dean, 1024564, born Surrey 1873, served five years as a private in the Queen's (Royal West Surrey) Regiment, farmer, enlisted 21 March 1917, NOK his wife Mrs Alice Florence Dean of Port Credit, served in 75th and PPCLI, discharged 1919. Port Credit. PB.
George Fraser. 1024022.
John Gibson. 1024534.
John Green. 1024144.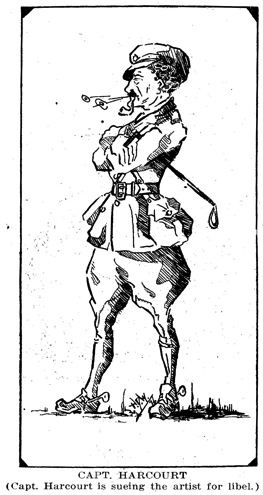 Captain George Augustus Harcourt, a barrister from Oakville.
Private Leslie Hare 1024145 enlisted 1917, served in France with MG Battery, demobilized 1919. PB
William Harrison. 1024506.
William Hart. 1024322.
William Hayes. 1024191.
Sergeant T.W. Hazlewood, Kirkton, Victoria College Toronto 1917.
Thomas Hughes. 1024218.
John Hunt. 1024028.
David Jones. 1024205.
Lieutenant R.D. Jones, University of Toronto Science 1915.
James Kelly. 1024301.
Henry King. 1024390.
Private James Lake, 1024563, born Middlesex 1883, labourer, nok wife in Weston.
William Lawrence. 1024189.
Lieutenant K.I. Lister. University of Toronto 1917.
Captain D.D. MacAgy.
George MacDonald. 1024387.
† Private Reginald Arthur Maltby, 1024096, 75th Battalion, killed 16 August 1917, age 30. Vimy Memorial. Brampton cenotaph.
Private William John McDonald, 1024099,born New Lyn, Cornwall, 14 June 1872, served in England with the Volunteer Artillery, labourer, lived at 37 Gertrude Avenue, Toronto, joined 1 June 1916.
William McDonald. 1024099.
George Marshall. 1024351.
Charles Martin. 1024045.
Joseph Martin. 1024296.
William Martin. 1024392.
Frederick Miller. 1024176.
Lieutenant-Colonel W.O. Morris.
Robert Murray. 1024119.
† Private Ernest Redgal [Redgal Ernest in Wigney] Pinkney, 1024127, 75th Battalion, killed 29 August 1917, age 32. Vimy Memorial. Brampton.
John Reid. 1024332.
William Richards. 1024358.
George Roberts. 1024144.
William Scott. 1024199, 1024464.
Major William Dwight Sharpe, formerly MO, British Admiralty, Serbia; CAMC; TOS 17 April 1916; SOS to 3rd Battalion 31 October 1916.
Albert Smith. 1024454.
Edward Smithy. 1024403.
Frederick Smith. 1024354.
Lieutenant John Leonard Smith, University of Toronto Forestry 1911-12, Lieutenant 36th Regiment, Lieutenant, 234th, April 1916, France May 1917, attached to the Canadian Corps Tramways Company.
William Smith. 1024483.
George Taylor, 1024311,
John Thomas. 1024330.
William Thomas. 1024433.
Lieutenant A.G. Trees, University of Toronto BASc 1915.
Thomas Walker. 1024191.
Captain H.D. Wallace.
George Watson. 1024356.
John Watt. 1024361.
Charles White. 1024303.
George Wright. 1024175.
Harry White. 1024456.
Frederick Williams. 1024108.
George Williamson. 1024407.
James Wilson. 1024451.
John Wilson. 1024190, 1024312.
Thomas Wilson. 1024191.

Assigned regimental numbers 1024001-102700

The 234th Battalion was perpetuated by the 3rd Reserve Battalion, The Peel Regiment, and now by The Lorne Scots.

Perkins Bull, From Brock to Currie, 411-12.